Coaching Tip:  Avoid Chafing Whether it be the wetsuit, shoes, triathlon kit, or some other article used while racing and training, chafing is a very common occurrence and one that should be avoided whenever possible. Chafing happens when something, usually an article...
read more
Product Testing Item:  Saucony Type A6 Run Shoe Price:  About US$100.00 Pros:  Light weight, easily forms to runner's foot, breathable mesh, holes to allow water to release through the bottom, gripper strip on heel to aid with slipping on, comfortable with or without...
read more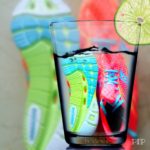 Joyful Tri Girl offers quick reviews on products relevant to triathlon. I am not financially compensated for any of these products or reviews, unless otherwise noted. Each individual should realize the product(s) may perform differently for him/her. The views stated are the thoughts and opinions of me, Joy Braun.